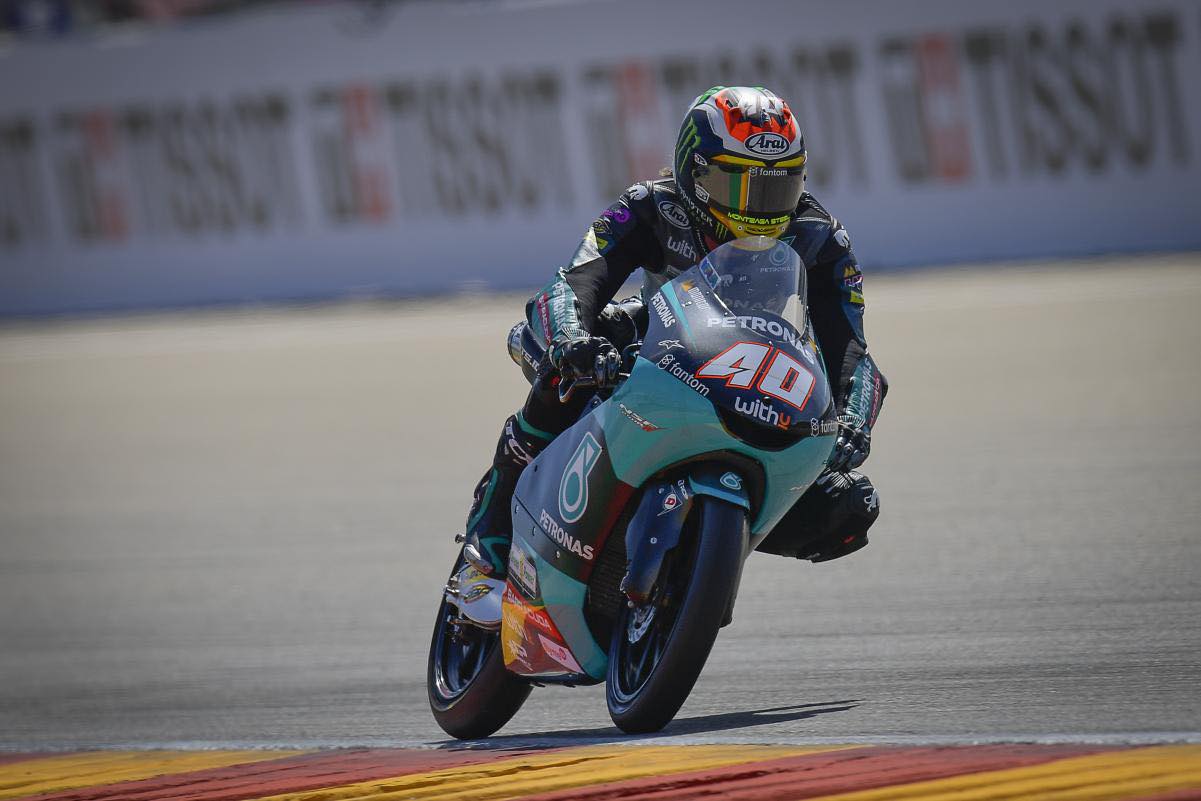 Darryn Binder gets pole for the second time this season. Sergio Garcia looks stronger this weekend, qualifying in third with Pedro Acosta in Ninth.

Ideal conditions for qualifying in Alcaniz, Spain for Moto3 Q1. The pitlane for the 15-minute session opened and nobody but Honda Team Asia rider Yuki Kunii went out. Two more minutes passed until Filip Salac and Ryusei Yamanaka took to the track but still the majority of the riders sat in their pit boxes.

With 10-minutes to go the first small group of riders crossed the line to start their first runs. Alberto Surra and Tatsuki Suzuki got very close to each other in Turn four as Surra stuffed the bike up the inside of the Japanese rider. Suzuki looked a little upset with the move and showed Surra a wheel into the next corner.

Stefano Nepa set the early pace and went top. Kaito Toba and Filip Salac had their laps taken away for a track limits infringement, so with seven-minutes of the session remaining, only six of the riders had set a lap.

Tatsuki Suzuki set a really quick three sectors but found himself meandering through dawdling riders on the back straight. Tatay completely blocked the line of the SIC58 Team rider but he still managed to set the quickest time. Tatay had a bit of a moment and took a trip through the gravel as he started his next lap. Kaito Toba was second after his first run with Stefano Nepa in third and Ayumu Sasaki in fourth.

Czech rider Filip Salac went second with just under two-minutes to go. Tatsuki Suzuki went back to his box and looked to be done with the session as he removed his helmet. Ayumu Sasaki went 3rd and Toba was in the final Q2 position in fourth.

With less than a minute left, the most of the field were riding so slowly down the back straight to find a tow and subsequently missed the chequered flag. They all crossed the line with zeros on the clock and missed their chance for a second run. This happens week-on-week and still they never learn. It won't be surprising if there are some penalties before the race tomorrow.

Kaito Toba was the final action of the Q1 session he lost the front at Turn seven. He didn't need to push because he was safely through. He slid off into the gravel and the bike was a little damaged, so the CIP Team would need to get their fingers out to repair the bike before Q2. So, Tatsuki Suzuki, Filip Salac, Ayumu Sasaki and Toba were through to Q2.
Q2 began with a few more riders going out onto track from the off. This was set to be a hot contest for the pole position for the race tomorrow. Foggia, Guevara and Binder all looked really fast going into the session.

After the first flyers, Darryn Binder went top with the fastest lap of the weekend. Pedro Acosta aborted mission on his first run and came down pitlane, presumably for some tweaks on the bike or to get himself a little space on track. Promoted from Q1, Tatsuki Suzuki went second with Gabri Rodrigo went third.

With seven-minutes left, Acosta was back out on track with his team-mate Jaume Masia as the rest of the riders sat in pitlane. Fenati was also circulating all on his own again but was only sat 11th, after his whitewash last time out at the British Grand Prix.

Kaito Toba crashed again at the same corner with three-minutes to go, so his weekend wasn't going brilliantly.
With two-minutes remaining, everybody was on their out-laps as Acosta and Masia still circulated at full speed. Andrea Migno went fourth followed by Deniz Oncu in fifth. Tatsuki Suzuki had a spill at Turn seven at the end of the session so his final attempt at pole was over. Sergio Garcia went third which is exactly what he needed after a nightmare at Silverstone.

So, pole was grabbed by Darryn Binder for the second time this year. He stalled the bike as he pulled up for his practice start, so the session didn't end as well it could have done. He was joined on the front row by Gabri Rodrigo who snook up into second on his last attempt with Tatsuki Suzuki in third. Sergio Garcia ended up in fourth with Pedro Acosta down in ninth. The quickest pair going into the session, Izan Guevara and Dennis Foggia were 13th and 14th respectively.

We are set for a great race tomorrow with Acosta fighting through from ninth and Garcia looking for a good result to close ground on his fellow-countryman in the Championship. The Race is tomorrow GMT+2 11:00.
Featured Image: MotoGp.com.


Looking to update your website?
ThisWebDesign works with small and medium-sized companies from all over the globe. Our focus is on offering visually engaging websites, social media profiles that convert, and branding that creates a powerful and lasting image.
thomas@thiswebdesign.co.uk
---