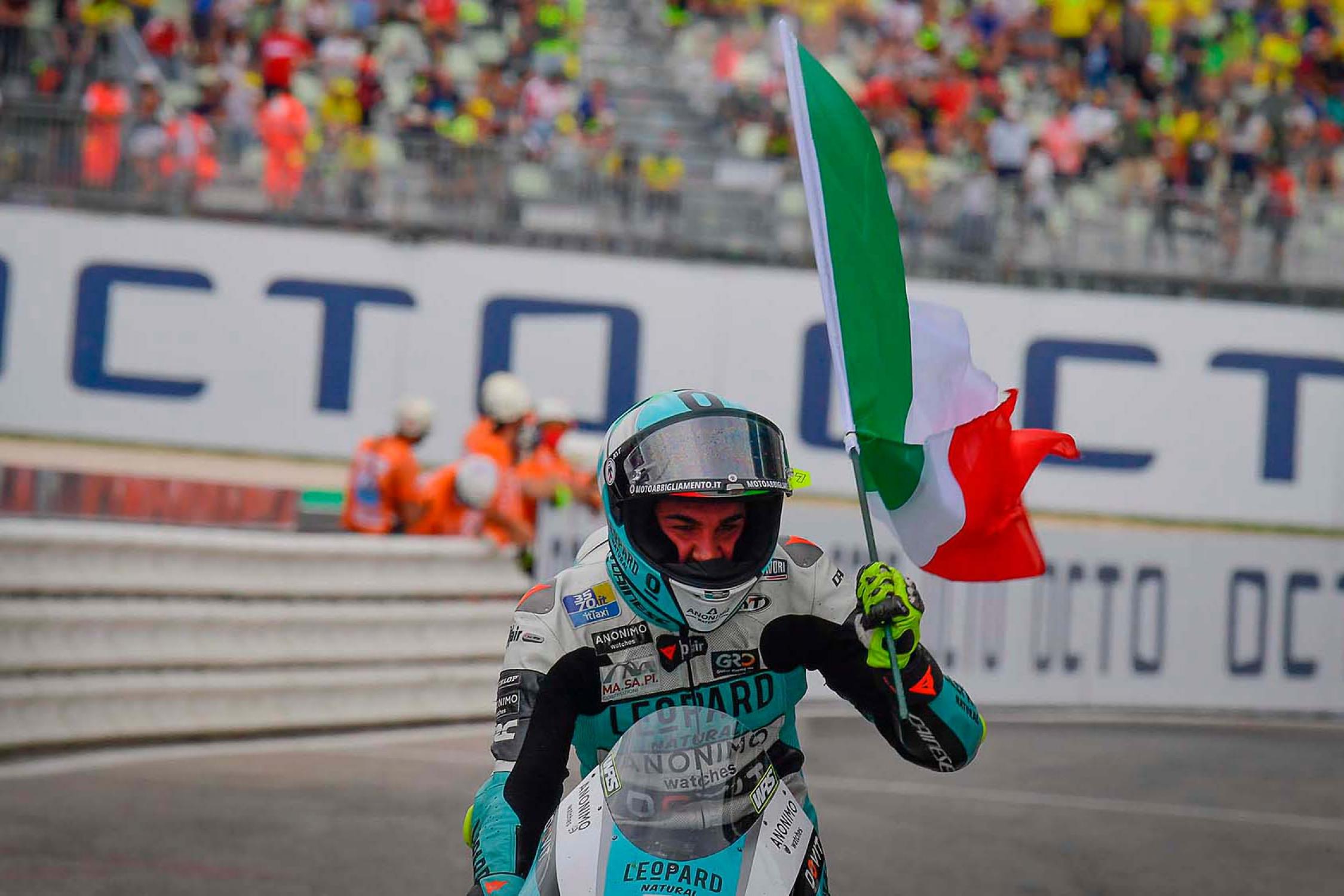 Moto 3: Dennis Foggia Wins the San Marino Grand Prix
Dennis Foggia takes his fourth victory of the season and moves into second place in the championship
It was blue skies with a few clouds in the air for the start of the Moto 3 race, it was an all-Italian front-row with Romano Fenati on pole position, could he convert it into his second race win of the season just as he did at the British Grand Prix in Silverstone?
The lights went out and it was Fenati who took the holeshot into turn one with Nicolo Antonelli in second and Andrea Migno in third, Sergio Garcia from 12th on the grid had gone up to seventh, whilst championship leader Pedro Acosta was in tenth place behind Riccardo Rossi.
On lap two and turn two Dennis Foggia overtook Antonelli for second place but the Avintia VR46 took the Leopard rider back at turn five. Elia Bartolini unfortunately crashed out at turn four. A disappointing end to what was a great weekend for the wildcard rider.
Pedro Acosta was staying on the back wheel of his championship rival Sergio Garcia after Garcia had a coming together with Acosta's team-mate Jaume Masia at turn eight on the second lap of the race. On lap three Masia had set the fastest lap and the gap that Fenati had was starting to close with Antonelli using the slipstream to stay with the Husqvarna.
Darryn Binder had made up seven places from his starting position and was in seventh place and looking to progress forward in the group to get back onto the podium which he hasn't stepped on since Doha.
It was looking like a repeat of Silverstone with the top three being Fenati, Antonelli and Migno; Fenati was beginning to get away from the group as he set the fastest lap of the race and had a 0.6 second gap over Antonelli. Pedro Acosta was also losing touch of the top eight as a one second gap had formed and was just out of slipstream range.
Garcia made a move on Binder for sixth place and with Acosta falling back it would be vital to pick up as many points as possible to close in on Acosta championship lead. Stefano Nepa had managed to get passed Acosta, could Nepa help Pedro to close in on the group in-front?
Foggia was able to go up the inside of Migno into turn 13 for third place as Foggia looked to try and close in on Antonelli and Fenati. On lap ten Xavi Artigas was given a long lap penalty for cutting turns one and two. Also on lap ten at turn four Antonelli had a huge moment into turn four and fell to the back of the group in seventh. Now Foggia led the charge to close the 1.8 second gap on Fenati. Garcia had also managed to get into third place, so all of Acosta's championship rivals were on the podium whilst Acosta was in ninth place.
Andrea Migno attacked Garcia into turn two for third, then Binder overtook the Spaniard at turn four dropping Garcia into fifth place. The gap between Fenati and Foggia had increased to 2.5 seconds by the end of lap 12.
Drama struck on lap 14 as Romano Fenati lost the front at turn 15 and what looked to be a race win in the bag had gone in an instant. Foggia was leading the pack with Migno in second and Garcia in third. Acosta was still behind Nepa in eighth place and seventh place was looking to be the best position the Red Bull KTM Ajo rider could hope for.
Garcia was desperate to get into second place passed Migno, he made his move at turn 13 but ran too hot into the corner and dropped to fourth place with Antonelli and Binder behind him. As lap 19 started Dennis Foggia had a 0.4 second lead over Andrea Migno and had enough of a cushion to be attacked on the straights with the top speed of the Leopard Honda.
Gaps were forming at the front with Foggia and Migno holding half a second gaps over Garcia in third place. With two laps to go Foggia had a safe gap at the front with Antonelli getting back into second place at turn one with Migno in third. GAVIOTA GASGAS Aspar's Sergio Garcia was fourth holding off Masia, but Garcia was just given a track limits warning so he had to be careful. Masia tried to go around the outside of Garcia but was sat-up and forced to go straight on.
Dennis Foggia took his fourth win of the season and goes into second place in the championship 42 points behind Acosta, Nicolo Antonelli finished in second with Andrea Migno in third making it an all-Italian podium. Sergio Garcia finished fourth and drops into third place in the championship but is equal on points with Foggia. Jaume Masia finished in fifth, Darryn Binder in sixth and Pedro Acosta rescued a seventh place. Britain's John McPhee finished in 13th place.
Featured Image: MotoGP.com

Looking to update your website?
ThisWebDesign works with small and medium-sized companies from all over the globe. Our focus is on offering visually engaging websites, social media profiles that convert, and branding that creates a powerful and lasting image.
thomas@thiswebdesign.co.uk
---