BSB: FS-3 Racing's Lee Jackson Takes His Maiden British Superbike Race Win In The Final Race Of The Weekend.
Lee Jackson Wins An Emotional Race Three At Oulton Park.
For the final installment of round two Bradley Ray was on pole position, Kyle Ryde was in second place with Lee Jackson in third place. Kyle has been suffering with arm pump throughout the two previous races.
For the final time of the weekend Kyle Ryde got the holeshot into Old Hall Bend, followed by his team-mate Brad Ray, Honda's Tom Neave crashed out at turn one, which brought out the safety car out. FHO Racing's Ryan Vickers had a mechanical issue and had to retire from the race.
Ray was in the lead once the session got under-way, Andrew Irwin touched the curb and highsided at Old Hall Bend, it was the Honda rider's second DNF of the day. The top three riders were Ray, Ryde and Lee Jackson, Rory Skinner was in fifth just behind Tommy Bridewell.
On lap six Kyle's arm pump issues came into play and he was passed by Jackson and Bridewell. Jason O'Halloran and Leon Haslam were dicing for sixth place, Iddon was dropping down the order and seemed to be having some mechanical issues. Top placed rookie was PR Racing's Dan Jones in 20th place.
There was a four-way battle for fourth place from Ryde to Haslam in seventh, Skinner took the fourth place on lap 10. Bridewell was in second place, Ray had a 1.9s lead from Bridewell.
By lap 12 Bridewell was catching Ray and was bringing Jackson with him. Bridewell was right on Ray's heels, he made his move at Island Bend and made it stick. Lee Jackson got momentum out of Knickerbrook and passed Ray for second place, had Ray got enough tyre wear to stick with the leading pair?
Lee went onto make an inside pass on Bridewell at Shell oils for first place, he then managed to put a 0.5 second gap between himself and second place man Bridewell. Jackson's team-mate Skinner was battling for fourth place with Haslam.
Lee Jackson crossed the finish line to take his maiden British Superbike victory, Bridewell secured second place, Brad Ray was third, Skinner won the battle for fourth leaving Haslam in fifth place.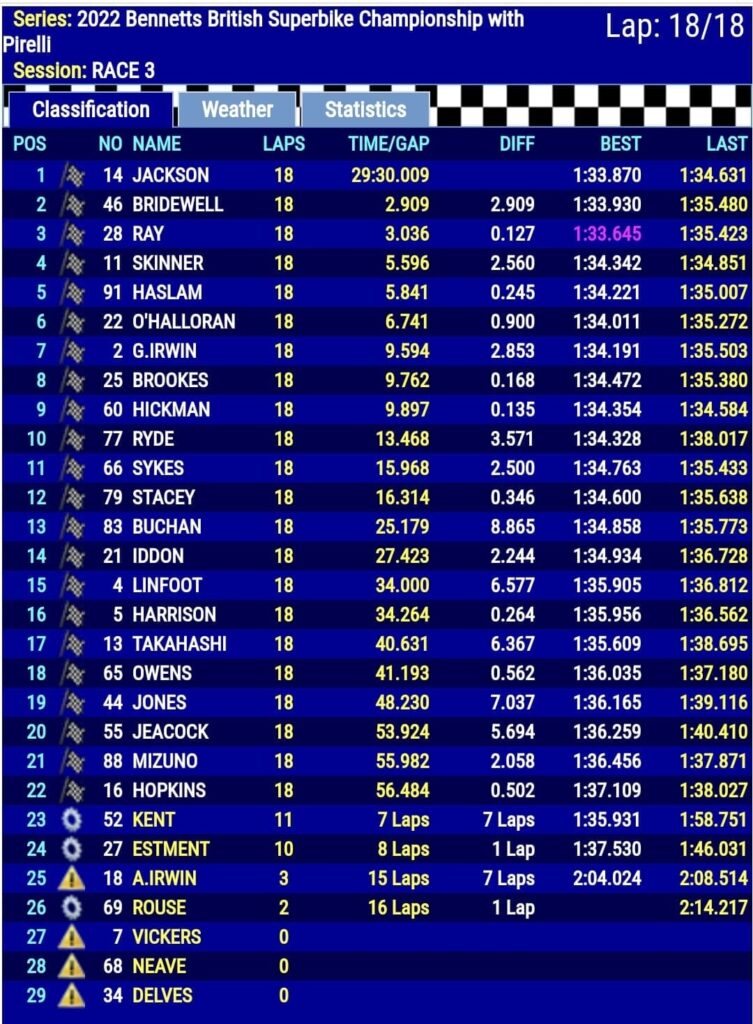 Brad Ray now leads the championship by six points from Glenn Irwin as the Bennetts British Superbikes leaves the Cheshire circuit of Oulton Park, next up for the championship is round three at Donington Park National on 20 – 22 May.
Featured Images: Bennets British Superbikes, Olithephoto.

Looking to update your website?
ThisWebDesign works with small and medium-sized companies from all over the globe. Our focus is on offering visually engaging websites, social media profiles that convert, and branding that creates a powerful and lasting image.
thomas@thiswebdesign.co.uk
---