SSP: First Podium For Eugene McManus In The Quattro British Supersport Championship.
Eugene McManus took his first front-row start in British Supersport at Knockhill and followed that with his first podium finish in the series in race two.
The Completely Motorbikes / Affinity Sports Academy rider from Randalstown took another step forward in his British Supersport career at Knockhill last weekend.
After setting the second-fastest lap time in qualifying he suffered in his first race due to a small technical fault and crossed the line in ninth position. On Sunday he started fifth for the Feature race and after a dramatic 26-lap battle with the two Appleyard Macadams of Bradly Perie and Harry Truelove he took his first podium in the Supersport category.
Free practice
It had been almost a month since the last British Supersport round at Donington Park where McManus had his best finish of the season so far with a sixth place. His attempts to immediately build on that success at Knockhill were set back when the riders met with a wet track in Fife, meaning many riders sat out FP1, including McManus.
By the afternoon the track had dried. McManus put in 17 laps during which his best lap time was a 50.318. This put him fourth fastest at the end of the first day, just 0.351 seconds behind the fastest rider.
Qualifying
On Saturday the weather was dry although the wind was up at the Knockhill Circuit. At the start of the 30-minute qualifying session, the rider from Randalstown was at the sharp end running in fifth place. He rose to third behind the experienced Jack Kenney and Luke Stapleford before calling into the pits.
On his return to the track, there were about eight minutes left. Having slipped down the order during his time in pit lane he was quickly back up to fourth before a red flag saw the session halted.
When the track re-opened there were just four minutes for the riders to try and improve their grid position. McManus managed to make the most of the time with a lap time of 49.473. This was enough for him to get his first front row in British Supersport sandwiched between Kennedy and Stapleford.
Race One
After the initial race was red-flagged on the first lap the Sprint race was reduced from 20 to 18 laps. Riders started from their original grid positions. The number 15 of McManus made a fantastic start, taking the hole shot. This was the first time McManus had led a British Supersport race and he certainly looked to have the pace.
Kennedy managed to overtake McManus on lap two at the final hairpin. Whilst Kennedy was then able to make a break, McManus initially held a good account of himself in the chasing group with Stapleford, Truelove and Perie.
However, a technical issue with the number 15 Kawasaki meant that he was unable to match the lap times of his fellow competitors and began to lose touch. By the fifth lap, he had slipped to fifth in the race and was unable to improve his lap times.
With McManus and the other front runners having made an early gap it was a case of trying to hang on and nurse the bike home for what would still have been his best result of the season. Lapping much slower than the other riders the flag could not come soon enough. McManus was caught and passed by several other riders in the closing stages of the race. He had to settle for a ninth-place finish but was content that he had shown the pace in qualifying and the opening few laps of race one.
Race Two
The Fife circuit was bathed in sunshine on Sunday afternoon for the 26-lap Feature Race. McManus began race two from the middle of row two and made a solid start maintaining his position on the opening lap.
The number 15 Kawasaki of McManus initially looked to be losing ground on the two Yamaha's of Appleyard Macadam Racing but McManus pushed on and clawed back a deficit of around a second to find himself sat on the back wheel or Perie and Truelove by lap seven.
Five laps later and the three riders were split by just half a second as they battled hard for the final podium position at Knockhill.
On lap 14 McManus overtook Truelove to move into fourth spot and then lap 18 saw him make it into third place overtaking on the inside of the final chicane to pass Perie. Neither of these two riders was going to make it easy for McManus however. A lap later and Truelove retook third with the same final chicane move McManus had made a lap earlier. McManus then fought straight back regaining third into turn one on lap 20.
Lap 22 and Truelove repeated his passing move at the final chicane. McManus then made a similar move a couple of laps later but both McManus and Truelove lost out to Perie who was now third as they crossed the line. McManus powered down the straight and into turn one to regain third place.
As they started the final lap McManus was third and just had to keep it tight for the last 1.27 miles to pick up his first podium in this category. There was another twist though as Truelove squeezed through at turn three and McManus was relegated to fourth. He wasn't done yet though as he roared past at Clark's and back into third position. McManus managed to hold on through the final hairpin and took his first British Supersport podium.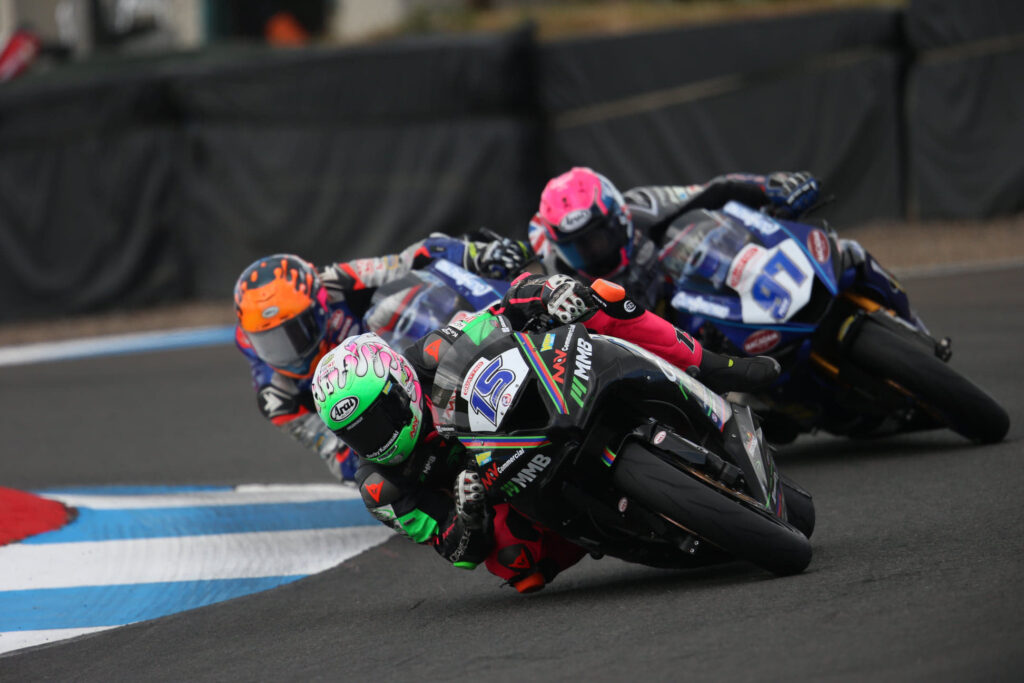 Featured Images: Bonnie Lane.

Looking to update your website?
ThisWebDesign works with small and medium-sized companies from all over the globe. Our focus is on offering visually engaging websites, social media profiles that convert, and branding that creates a powerful and lasting image.
thomas@thiswebdesign.co.uk
---