BSB: Kyle Ryde Takes the First Victory of the 2023 Bennetts British Superbike Season.
Kyle Ryde Stood his Ground and Took the season Opening Race at Silverstone.
The opening round of the Bennetts British Superbikes is upon us at the Northamptonshire circuit of Silverstone. PBM Motorsport's Tommy Bridewell was on pole position, OMG Racing's Kyle Ryde was in second place, with FHO Racing's Josh Brookes in third place.
Kyle Ryde got a sharp start leading the race until Tommy Bridewell took charge of proceedings and lead the race after making a move on Ryde at Brooklands. Josh Brookes, Jason O'Halloran and Glenn Irwin were all in the mix too in the leading group.
Kyle reclaimed first position from Bridewell at Copse, Bridewell wasn't settling for second place and retook first place at the end of the lap.
Six laps into the race McAms Yamaha's Jason O'Halloran had made his way through the leading duo to take control of the race. Mar-Train Racing's Jack Kennedy made his way-up to the leading group. With Jason at the front there was a battle going on behind the Australian rider between Brookes, Bridewell and Ryde.
Ryde held off his rivals and took first place from O'Halloran, Bridewell was now in second place and putting pressure on Ryde but the OMG rider held his own and crossed the finish line to take the first victory of the 2023 season, Bridewell was second, Brookes finished in third place, a welcome return to the podium for the new FHO rider.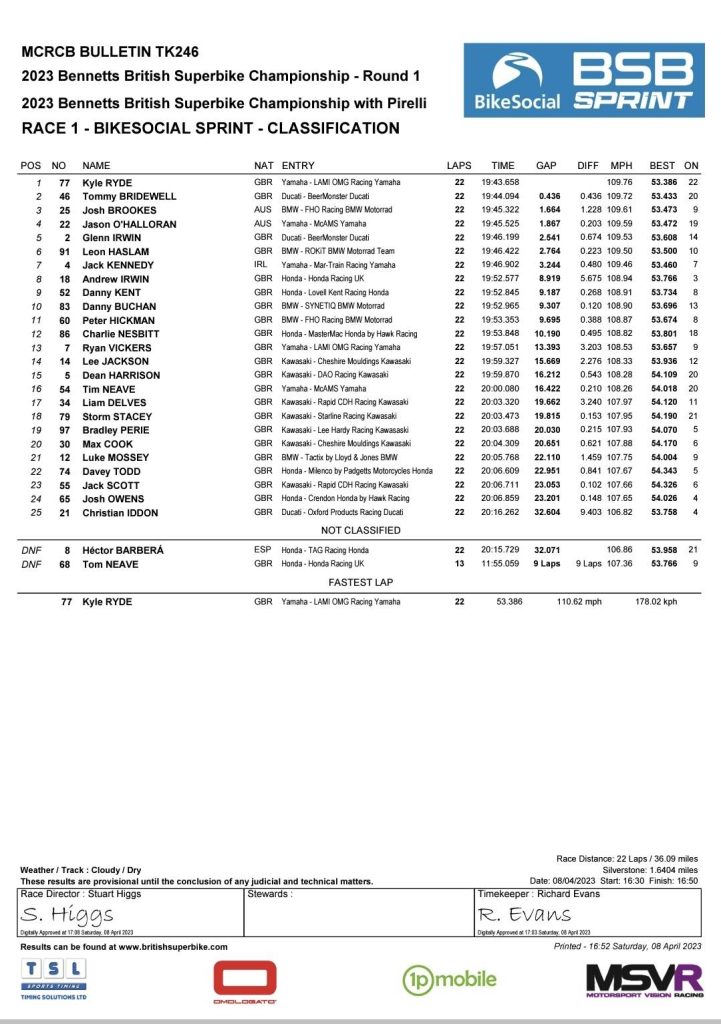 Featured Image: Olithephoto.

Looking to update your website?
ThisWebDesign works with small and medium-sized companies from all over the globe. Our focus is on offering visually engaging websites, social media profiles that convert, and branding that creates a powerful and lasting image.
thomas@thiswebdesign.co.uk
---