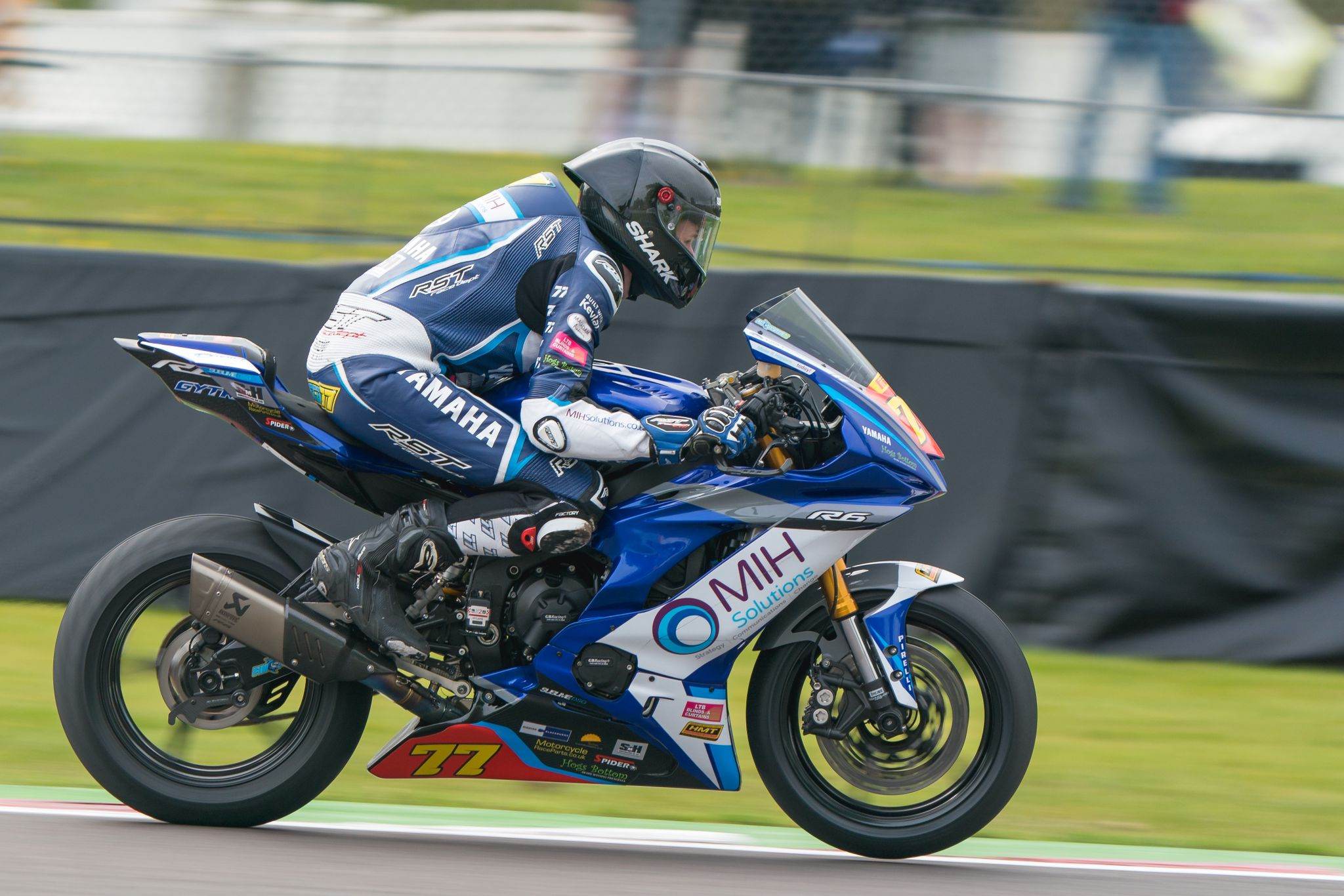 JNR STOCK: 24th to Fourth Fin Arscott Experiences the Ups and Downs of a Race Weekend in the Junior Superstock Championship.
Fin Arscott gets his best result of the season so far at Oulton Park.
Fin Arscott wowed everyone with his exceptional display of level headedness and pure determination to win at Oulton Park over the bank holiday weekend. Fin, riding for MIH Solutions – Hand racing on the Yamaha R6 qualified third fastest overall on Sunday morning in the wet conditions, but as the first race took place the track was drying and the gamble for intermediate tyres didn't pay off, the track dried and the riders running slicks reaped the rewards leaving Fin to battle it out and finish 16th overall.
The times from the race dictating the grid for Monday's race was a double blow for Fin and the team as he started race two back on row eight of the grid, in 24th place!
The team had a start plan, but this was all about getting the best result we could after the previous race the day before. The team talks, track walks, mental visualization, and Fin's liking for a wet track meant that he was supremely confident at he lined up on the grid.
As per his title sponsors name MIH, he was going to Make It Happen! After a great start, Fin passed a few riders into turn one, and several more throughout the first lap, crossing the line having passed an astonishing 17 riders to get himself into seventh place after one lap! Fin was clearly 'on it' during the following laps, Fin set the fastest lap time after time, and caught and passed even more riders. Struggling for rear grip in the slippery conditions, the back stepped our several times, bucking Fin out of the seat, but his feel for the bike meant he maintained control and got straight back to hunting down the next rider he had set his sights on.
He fought through to fourth and set about closing in on the top three. With a couple of laps to go, it was a tall ask to get a podium place, but maybe it could happen. Fin pushed, and closed up to the three leading riders, but a couple of moments on the last lap meant he'd lost momentum and couldn't get the pass. Coming over the line in 4th place from a starting position of 24th, the whole team were ecstatic. Fin showing what a class act he is and getting firmly on the Junior Superstock championship points table.
Fin is now in ninth position overall after the second round with 18 championship points as the British Superbikes series head to Donington Park, Derbyshire, for the next round on 19 – 21 May.
Featured Images: Olithephoto.