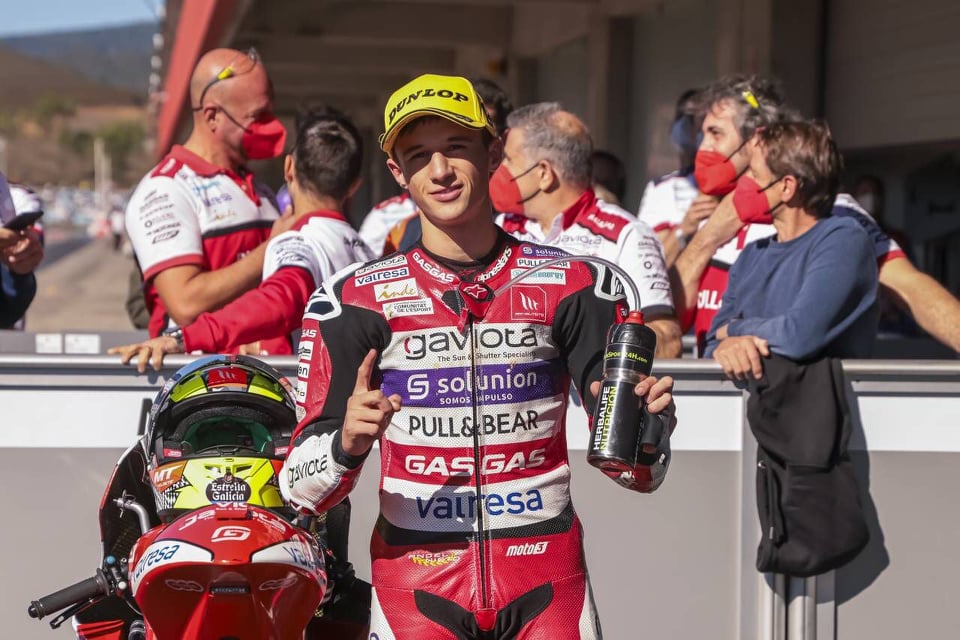 Moto3: The championship contenders split by 10 positions in Portugal As Sergio Garcia Takes Pole.
Sergio Garcia takes pole in chilly Portugal ahead of John McPhee. The man pressuring the championship lead, Dennis Foggia qualified fourth, with his championship rival Pedro Acosta stuck in 14th.
Cool conditions at Autodromo Internacional do Algarve in Portimao, Portugal as the battle for the Moto3 crown continues this weekend. Pedro Acosta and Dennis Foggia have been locking horns all season and this weekend was no exception, both riders up at the top of the timing sheets throughout Free Practice. Acosta has looked fast but scrappy, having a spill in FP3 and Foggia has looked fast, smooth and unphased. The stage was set for qualifying.
The Q1 session saw a few big names with Niccolo Antonelli – who's had a very good second half of the season – Jeremy Alcoba who's shown sparkles of brilliance as well as silliness and Deniz Oncu's replacement, Daniel Holgado who looks set to win the Junior World Championship this year.
First blood went to Jeremy Alcoba who did his lap tucked in a group. He led from Max Kofler's replacement, Joel Kelso. Kofler has tested positive for Covid-19. French youngster Lorenzo Fellon sneaked into the Top four as he gets stronger as he gains more experience. Yuki Kunii jumped to second behind Alcoba after the first runs at a fast lap.
The young Italian Alberto Surra moved into third after a strong Misano round. One of the next wave of riders from the VR46 Race Academy. On the second runs, Stefano Nepa came out. He waited for 10minutes until he took to the track. The reason for this was unknown.
With four-minutes to go, there was a lot of dawdling out of the final corner as the riders tried to get the best position in the group. Penalties wouldn't be a surprise as Izan Guevara and Ayumu Sasaki have already been slapped with long-lap penalties for messing around on the racing line in Free Practice.
Alcoba went over half-a-second quicker than the rest of the field, and came into the pits before the end of the session after he messed up his Turn one into his flying lap. He remained at the top as the chequered flag came out. Yuki Kunii was second with Alberto Surra in third and Niccolo Antonelli clinging on to fourth.
Then it was the time for Q2. Pedro Acosta and Dennis Foggia needed to get themselves into a good position for tomorrow's race, but qualifying hasn't been either rider's strong-suit this year, with no poles between them all year. John McPhee looked fast in FP3 along with Romano Fenati and Tatsuki Suzuki.
Suzuki was the first faller at Turn 13 on his first flying lap as the front slipped out from underneath him. He's been partial to a crash or two this year and goes to the Red Bull AJO KTM squad next year. Filip Salac went fastest after the first fast laps. Sasaki was second and John McPhee went third. Acosta went fourth and Foggia went for a little more of a methodical approach in ninth.
With five-minutes remaining, the Ajo KTM boys and Ayumu Sasaki went out onto the circuit as the others sat in pitlane waiting. A minute later, the Leopard Racing riders took to the track and were followed out by the rest of the field.
Acosta started his quick lap with a nice gap to Sasaki in front of him but caught him by Turn six. At Turn 12, the Spanish rookie had had enough following the Tech3 KTM, so went underneath him. Jaume Masia displaced his team-mate to push him into fifth.
As the group crossed the line with 20-seconds to go, Dennis Foggia went into fourth position but Sergio Garcia set a blindingly quick time to go top. He has returned from his kidney injury, looking very strong. Pedro Acosta started his final attempt but ran wide at Turn fourth and his lap was cancelled.
The final riders to cross the line shuffled the pack even further and as the session ended John McPhee went second behind Sergio Garcia, and Adrian Fernandez was third. A brilliant fourth was Dennis Foggia as he continued to pile the pressure on the Championship Leader. Jaume Masia was fifth ahead of Xavi Arigas and Darryn Binder, Niccolo Antonelli was eighth. Pedro Acosta plummeted to 14th on the grid and will have to be very careful to stay out of trouble at the start tomorrow. But we have seen him do it before – he needs to do it again…
Featured Image: Teamaspar.com


Looking to update your website?
ThisWebDesign works with small and medium-sized companies from all over the globe. Our focus is on offering visually engaging websites, social media profiles that convert, and branding that creates a powerful and lasting image.
thomas@thiswebdesign.co.uk
---