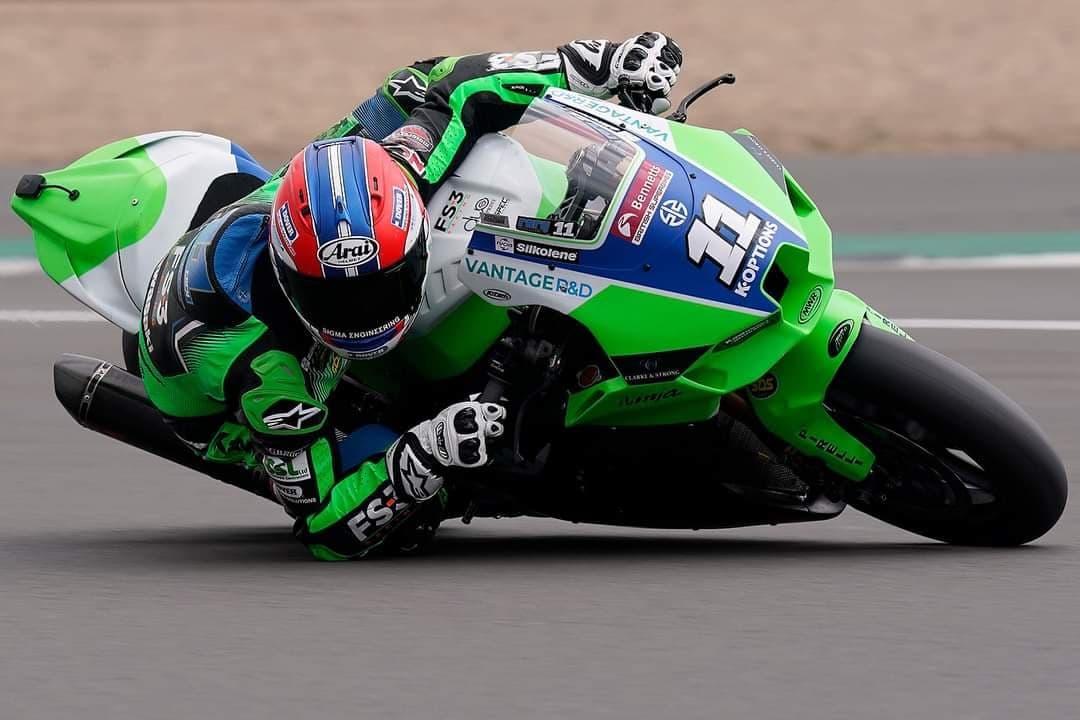 BSB: Rory Skinner Leads The Way On Day One Of Testing At Silverstone.
FS-3 Racing's Rory Skinner Sets The Pace On The Opening Day Of The Two-Day Test At Silverstone.
For the third testing schedule for the Bennetts British Superbikes, the Superbike and supporting classes are at the Northamptonshire circuit of Silverstone for a two-day test. The weather conditions were yet again on the cool side.
The first session of the day got under-way with PR Racing's Dan Linfoot at the top of the timing sheets, there were only 10 riders out on track for the first 20 minutes of the session. OMG Racing's Kyle Ryde went into first position after completing seven laps but was quickly shunted down to third place after Honda's Glenn Irwin took charge of proceedings followed by MCE Ducati's Josh Brookes.
At the half-way mark of the first session Dan Linfoot was once again leading the way from Glenn Irwin in second place and FHO Racing's Ryan Vickers in third place. Highest placed rookie was BMW's Chrissy Rouse in 16th place. With 27 minutes remaining to the session drops of rain were reported in all sectors of the circuit, all the riders on track returned to the pits.
At the checkered flag for session one it was Kyle Ryde in first position, Ryan Vickers was second place, Brookes finished in third place, Glenn Irwin was fourth just in front of BMW's Dan Linfoot in fifth place. McAMS Yamaha rider's Tarran Mackenzie and Jason O'Halloran had a quiet session finishing in 12th and 15th place respectively.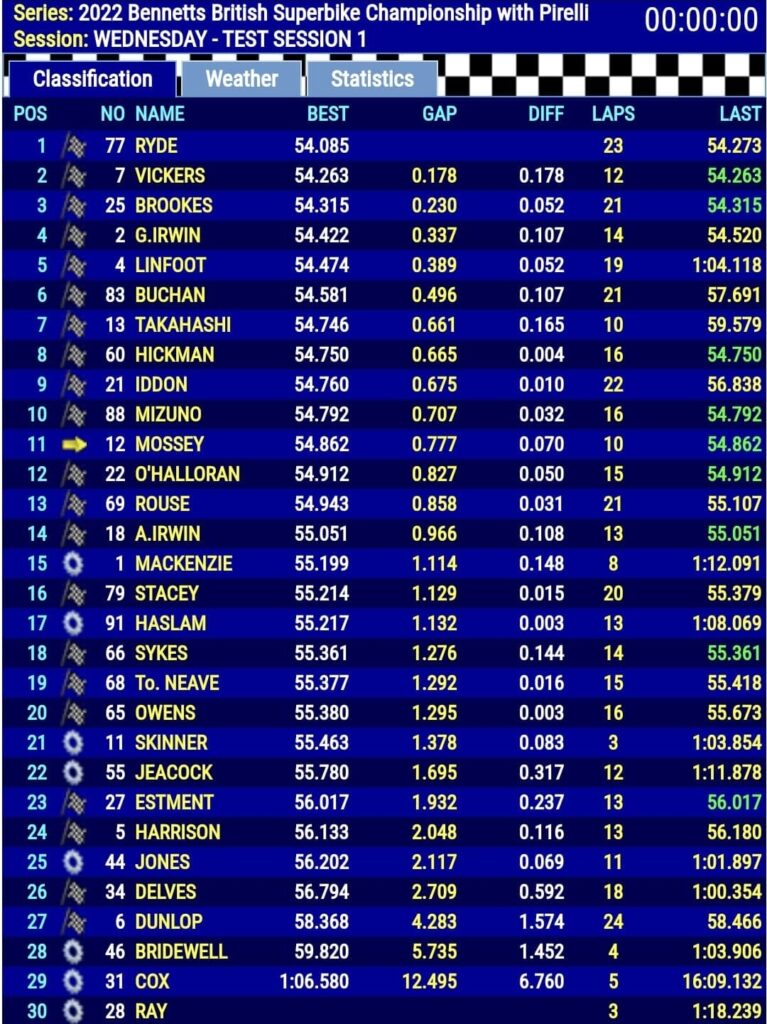 Session two was under cloudy dry conditions, Dan Linfoot made his way to the top of the timing sheets followed by Vickers and Leon Haslam until FS-3 Racing's Rory Skinner took the top spot from Linfoot. Storm Stacey and Suzuki's Christian Iddon were climbing up the order in fifth and sixth place, with rookie Chrissy Rouse in 10th place.
Rain was falling in all sectors of the circuit after just 20 minutes of track time for the Superbike class, all 30 riders returned to the pits. No more track action took place for session two due to the weather conditions, apart from Haslam, Kyle Ryde and PR Racing's Dan Jones all came out with 10 minutes remaining to the session.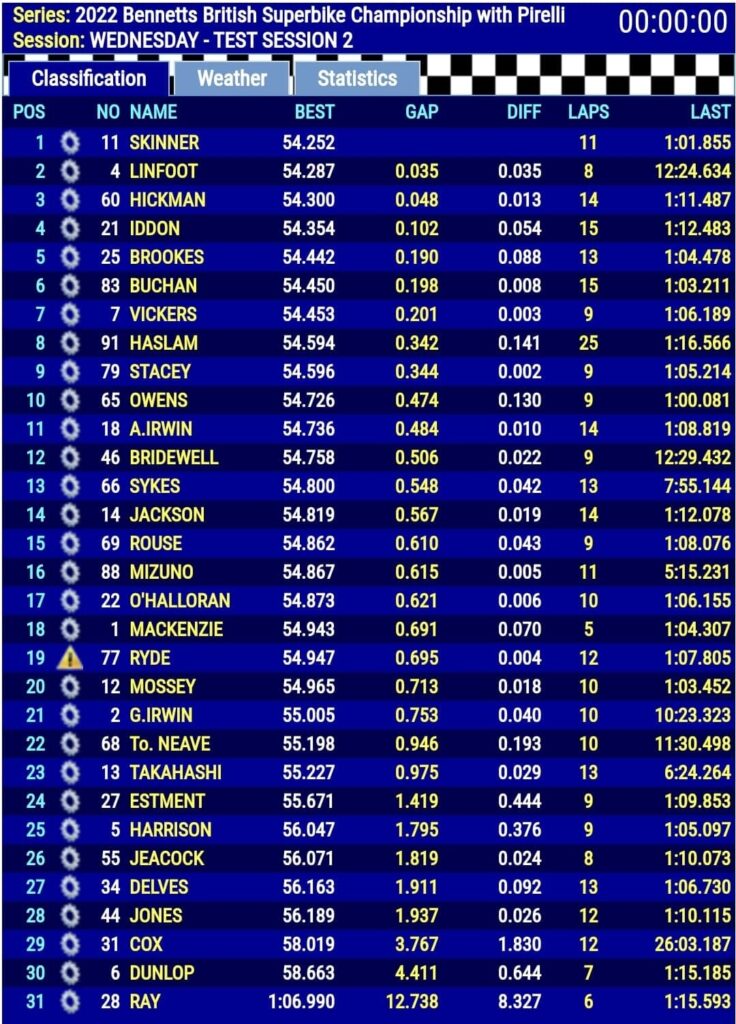 For the final installment of day one's testing it was Leon Haslam in first position, Tommy Bridewell was in second place, with Kyle Ryde in third place. Buchan was on the move getting up-to fourth place, McAMS Yamaha duo were inside the top ten, with O'Halloran in sixth place and Tarran Mackenzie was in ninth place.
With 20 minutes remaing to the final session of the day Skinner charged to the top of the timing sheets, beating Ryde's earlier lap time in session one by 0.355s. CDH Racing's Kawasaki's Josh Owens took second place after completing 15 laps. Vickers crashed with just ten minutes remaining to the session at Becketts, which brought out the Red Flag. Reigning British Superbike Champion Mackenzie also crashed at Woodcote and had to go to the medical centre.
It's FS-3 Racing's Rory Skinner who ends the first day at the top of the timing sheets, Bradley Ray was second, Linfoot was third, Bridewell fourth and Owens ended his day in fifth place.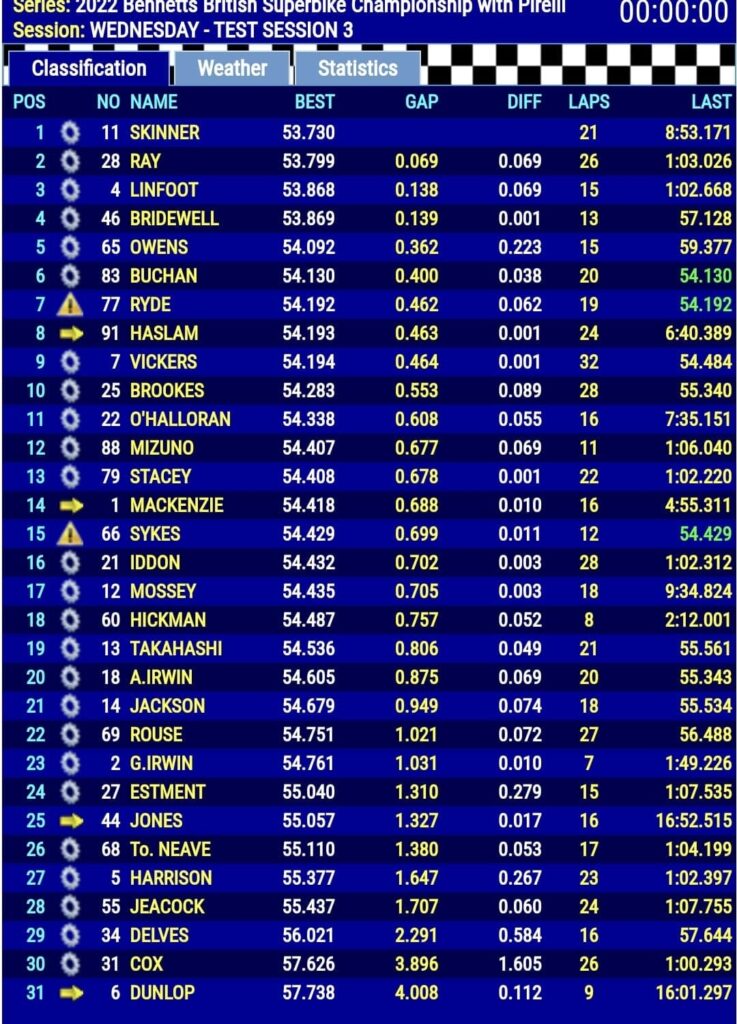 Featured Images: Michael Hallam Photography, FS-3 Racing, Bennetts British Superbikes.

Looking to update your website?
ThisWebDesign works with small and medium-sized companies from all over the globe. Our focus is on offering visually engaging websites, social media profiles that convert, and branding that creates a powerful and lasting image.
thomas@thiswebdesign.co.uk
---