WSBK: Alvaro Bautista is Crowned the 2022 WSBK Champion in Mandalika.
Toprak Razgatlioglu Took his Third Victory of the Weekend, Winning Race Two but it wasn't Enough to Stop Alvaro Bautista from being Crowned the New 2022 WSBK Champion.
For the final installment at Mandalika Toprak Razgatlioglu was on pole position for the third time this weekend, Jonathan Rea was in second place with Andrea Locatelli rounding out the front row of the grid in third place.
Toprak got the holeshot into turn one, Toprak ran wide a few corners later handing the lead to Rea, Bautista was in fourth place behind Locatelli. Scott Redding was up to fifth place, Michael Ruban Rinaldi had a poor start again and was down in 14th place.
With 20 laps to go the leading quartet from Rea to Bautista had made a slight break from the rest of the field, Locatelli was the fastest rider on track whilst in third place.
Alvaro took third place from Locatelli with 17 laps to go, the Spaniard was now in the perfect position to be crowned the new 2022 WSBK champion.
Axel Bassani was on a charge and passed Locatelli for fourth place and was catching his fellow Ducati rider Alvaro; would Ducati orders come into play for Bassani not to overtake Bautista?
Toprak took the lead from Rea with 14 laps to go, Rea ran wide at the chicane allowing Bautista to take second place from the Kawasaki rider. A lap later Bassani passed Rea for third place, Rea seemed to be losing drive out of the corners!
With 13 laps to go Toprak pulled the pin and was taking Bautista with him, there was a fight for third place between Bassani, Rea and Locatelli. Redding was the leading BMW in ninth place, his team-mate Michael Van Der Mark was in 11th place
Rea won the battle for third place with 10 laps remaining to the race, he managed to put a bit of breathing space between himself and the Italian rider Bassani to hold on to the third place. Alvaro looked eager to make a pass on Toprak at turn 13 but couldn't, he had to wait for the next lap to make his move for first place.
Alvaro made the move, but Toprak took the first place back a corner later, Bautista challenged for the lead again and slipped underneath the Yamaha rider and took first place again. The leading duo were just so close to each other, Bautista didn't seem to be able to pull away from Toprak.
Toprak was back leading the race with just five laps to go; Rea joined the leading duo and was in the hunt for a race win. As the three riders headed into the final lap Toprak managed to pull away from Bautista and Rea, this result was enough for Bautista to take the 2022 WSBK Championship Title.
Toprak crossed the finish line to take his third race victory, Bautista crossed the line in second place and took the 2022 championship crown, Rea finished in third place with Locatelli finishing in fourth place.
What an amazing season for Alvaro Bautista and Ducati; 14 race wins with a further 29 podium finishes, it's been 11 years since Ducati last won a WSBK championship title.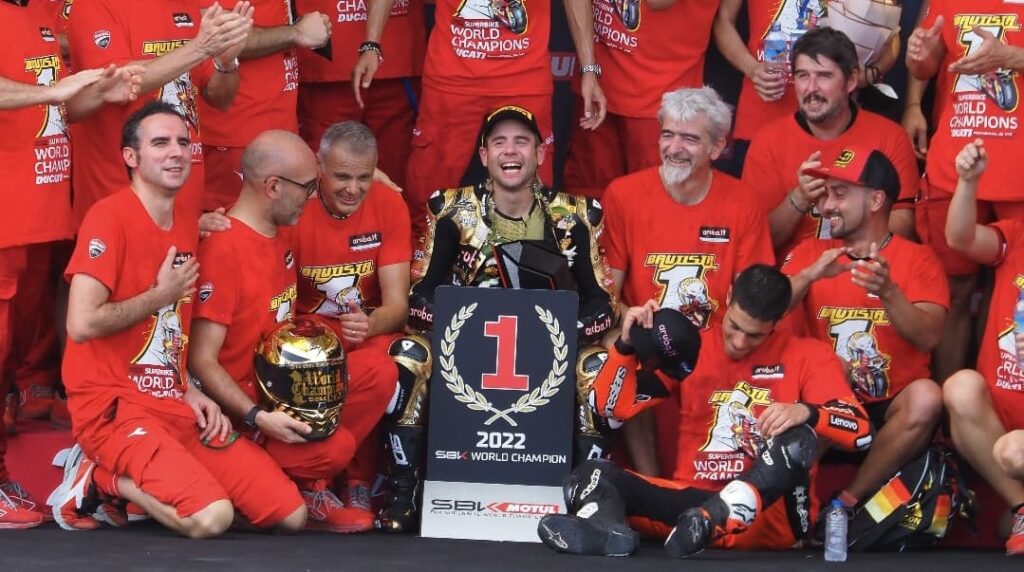 Featured Images: WSBK.com

Looking to update your website?
ThisWebDesign works with small and medium-sized companies from all over the globe. Our focus is on offering visually engaging websites, social media profiles that convert, and branding that creates a powerful and lasting image.
thomas@thiswebdesign.co.uk
---