BSB: FHO Racing's Josh Brookes Wins Race Two at Silverstone.
Josh Brookes takes win number 55, the Australian is back to his career winning ways.
For race two of the opening round at Silverstone, yesterday's Bikesocial Sprint race winner Kyle Ryde was on pole position, Tommy Bridewell was in second place, Mar-Train racing's Jack Kennedy rounded out the from row in third place. FHO Racing's Peter Hickman pulled off the grid with a technical issue.
Lights out and it was Kyle Ryde who lead into turn one from Bridewell, Glenn Irwin got a poor start and was in 12th place. Bridewell took the lead at Brooklands, the pair crossed the line side by side but it was Bridewell who clung on to the lead.
Josh Brookes got in the mix and was in second place, Jason O'Halloran was in fourth place. Charlie Nesbitt crashed and took Christian Iddon out, the Ducati rider had no went down with no warning.
At the front Brookes was now leading the race, Bridewell was in second, Jack Kennedy was in a strong fourth place. The front group of riders consisted of 12 riders! Kyle and Bridewell were battling for second place, each rider seemed to be strong in different parts of the circuit.
On lap 13 Jason passed Kyle for third place, O'Halloran was fastest man on track at the time. A lap later Kyle took the third place back, the Nottinghamshire rider was again putting pressure on Bridewell for second place. Glenn Irwin was on the move with 13 laps to go, the Ducati rider was in fifth place.
Jack Scott crashed out Aintree on lap 21. The leading trio had bunched up, Bridewell was right on the back wheel of Brookes. Glenn Irwin took third place from Kyle, the OMG rider fought back but the Ducati was too fast down the straight and Glenn hung on to the third place.
The Red Flag came out on lap 28 due to BMW's Danny Buchan having a highside on the start finish straight.
Josh Brookes took his 55th victory, Bridewell was second, Glenn Irwin was third, Kyle had to settle for fourth place, Jason O'Halloran was fifth.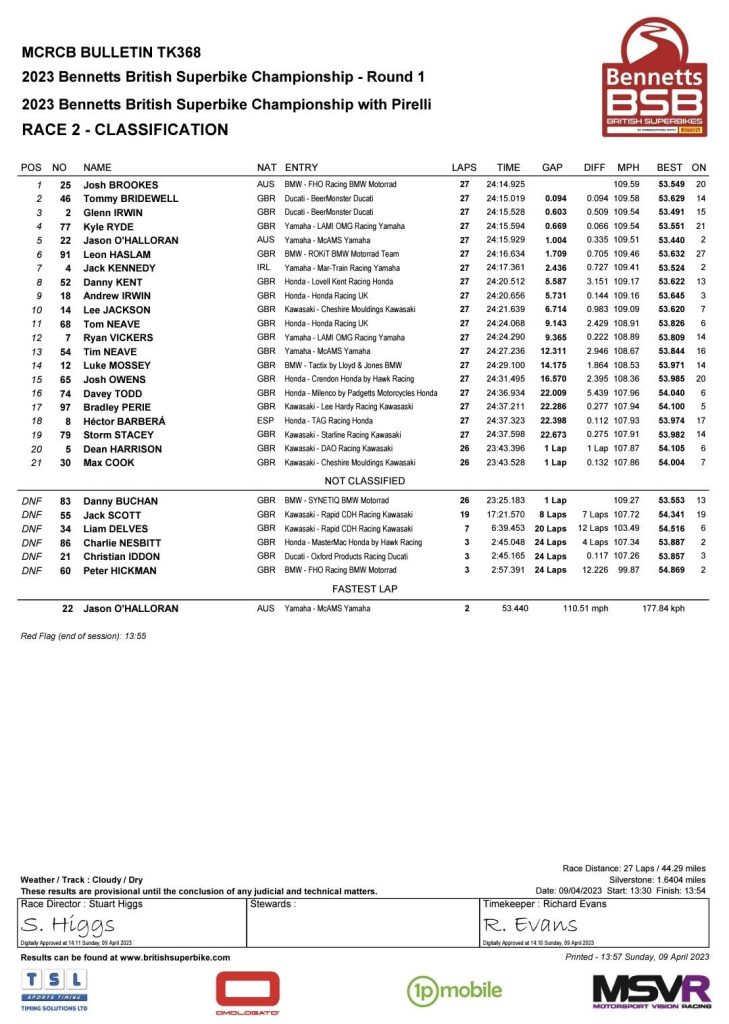 Featured Images: Olithephoto, Bennetts British Superbikes.

Looking to update your website?
ThisWebDesign works with small and medium-sized companies from all over the globe. Our focus is on offering visually engaging websites, social media profiles that convert, and branding that creates a powerful and lasting image.
thomas@thiswebdesign.co.uk
---