Ivan Ortola Takes his First Moto3 Grand Prix Victory in COTA.
It's round three of the Moto3 championship in COTA Texas. Leopard Racing's Jaume Masia was on pole position, Liqui Moly Husqvarna Intact GP's Ayumu Sasaki qualified in second place, with Ivan Ortola rounding out the front row in third place.
Diogo Moreira got the holeshot into the famous turn one at the Red Bull Grand Prix of the Americas, Ivan Ortola had a massive moment coming out of turn one but managed to save it! Sasaki was in second place, Stefano Nepa was in third place. Josh Whatley retired to the pits with a technical issue; the British rider crashed on the warm-up lap and had to start from pit lane.
Two laps into the race Sasaki was leading the way from Masia, the leading group consisted of 14 riders. Ortola was the fastest man on track whilst he was in tenth place.
There was a tail wind across the circuit which was affecting the slip stream affect for the Moto3 riders. The leading group now consisted of five riders from Sasaki to Xavier Artigas. Tatsuki Suzuki crashed out of the race at turn five with 10 laps remaining to the race.
Ortola caught the leading group of five riders with eight laps to go, Sasaki was leading from Masia, both front riders looked confident leading the way from the rest of the field. Ortola yet again was the fastest man on track and had moved in to fifth place.
Deniz Oncu was having a quiet race, the Turkish rider was down in 13th place, Britain's Scott Ogden was in 18th place outside of the points.
The front group of six riders had over a three second gap from the rest of the field, the circuit tail wind was still not allowing the front group to benefit from any slip streaming.
With just four laps remaining to the race Ortola was on the move and was in third place, Masia took the lead for the first time during the race at turn 13, the battle for the COTA victory was now heating up! Sasaki retook the lead from Masia but then crashed out at turn 13 which caused Masia to run wide, Ortola was now leading the race, Masia got pushed back to fifth place after the incident.
On the final lap it was a three-way battle for the victory between Xavier Artigas, Ortola and Moreira, Masia joined the fight for the final few corners.
Ortola took the victory, it was the Angeluss MTA Team rider's first Grand Prix win, Masia was second, Artigas took the final podium spot, Moreira was fourth with Daniel Holgado finishing in fifth place.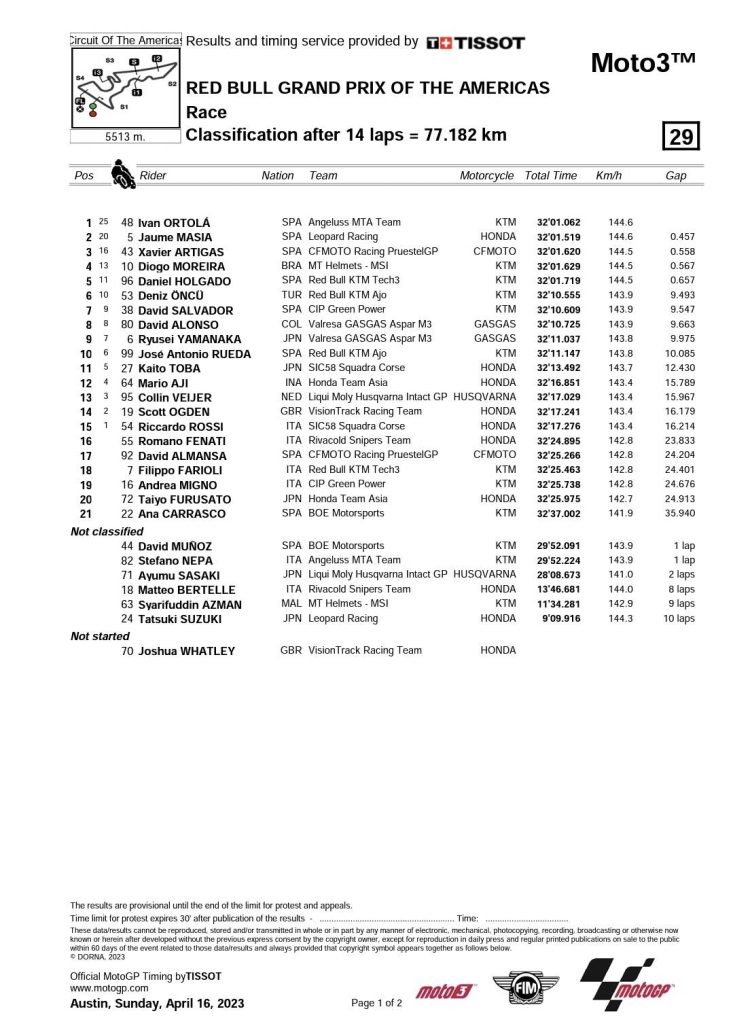 Featured Images: MotoGP.com