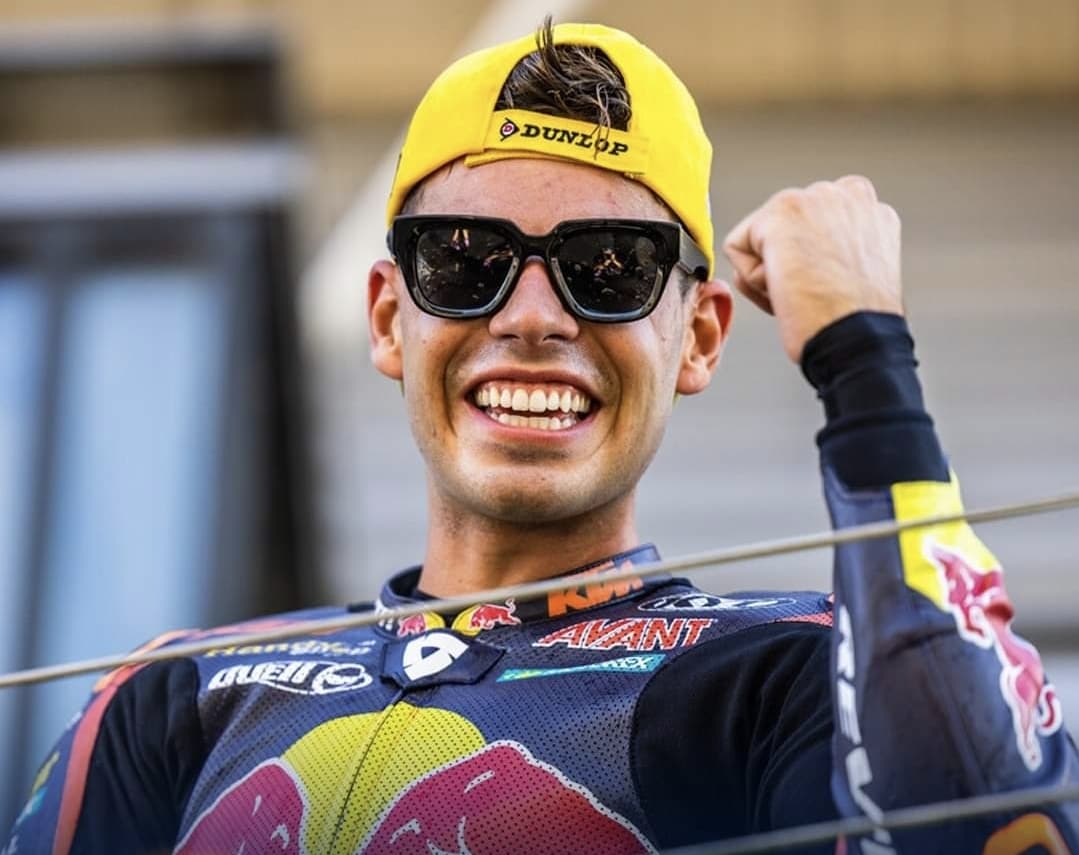 Moto2: Pedro Acosta Wins at Valencia as Augusto Fernandez is Crowned the Moto2 2022 Champion.
Pedro Acosta Takes the Final Victory of the Moto2 2022 season, as his Team-Mate is Crowned the 2022 Moto2 Champion with Ai Ogura Crashing Out of the Race.
For the final race for the Moto2 Championship Alonso Lopez was on pole position, Pedro Acosta was in second place with Augusto Fernandez in third place. The Moto2 championship will be decided between Fernandez and Ai Ogura, there was just 9.5 points between the two riders.
Lopez was first into turn one, Augusto was pushed back to sixth place, Ogura was in fourth place. Pedro Acosta took first place from Lopez on the start finish straight. Lopez tried to take first place back and the two riders touched, causing them both to run wide handing the lead of the race to Tony Arbolino.
Ogura was now in second place; Augusto was in fifth place. Lopez and Acosta were now battling for third place, the battle was getting quite fierce between the two Spaniards!
Lopez crashed out at turn 11, he ran wide and lost the front. Cameron Beaubier was on the move in fifth place, Jake Dixon had a bad start to the race and was down in 18th place.
Beaubier crashed out at turn 14 after such a strong start to the race. The top three made a break from fourth placed rider Fernandez. Celestino Vietti crashed out with 18 laps to go, the Italian looked to be disappointed yet again.
Ogura crashed at turn eight! the championship fight was over, Augusto Fernandez was now the 2022 champion.
Arbolino had a 0.9 second lead at the front from Acosta, Fernandez was in third place. With 15 laps to go Jake was up to tenth place.
Acosta took the lead on the start finish straight and held the position from Arbolino. Fernandez took second place a lap later and started to break away from Arbolino.
Somkiat Chantra crashed out at the same place as his team-mate Ogura with 10 laps to go. Dixon was now in eighth place, Mattia Pasini was forced wide by Jeremy Alcoba causing Pasini to crash. Aron Canet also crashed out at turn five with just five laps remaining to the race.
Acosta crossed the finish line to take third Moto2 victory, Fernandez finished in second place and was crowned the 2022 Moto2 Champion, Arbolino crossed the line in third place.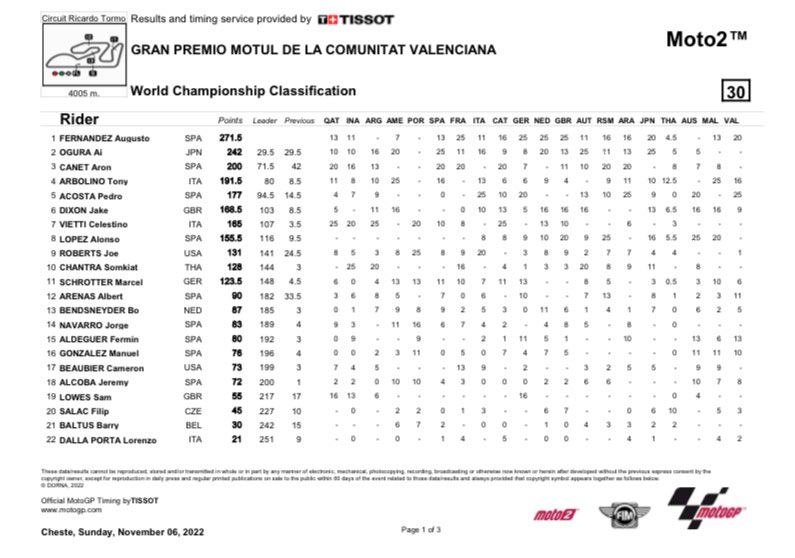 Featured Images: MotoGP.com.

Looking to update your website?
ThisWebDesign works with small and medium-sized companies from all over the globe. Our focus is on offering visually engaging websites, social media profiles that convert, and branding that creates a powerful and lasting image.
thomas@thiswebdesign.co.uk
---